Dell Precision 7920 Tower Workstation, Max performance. Superior scalability.
A Precision 7920 Tower that delivers the highest level of performance and scalability.
THE PRICE GIVEN IS ONLY AN APPROXIMATION. PLEASE SPECIFY THE CONFIGURATION REQUIRED, BY E-MAIL AND WE WILL QUOTE THE EXACT  INVESTMENT SCHEDULE.
Operating System
Available with Windows 10 Pro – for a smooth, versatile PC experience.
Talking Tech with Film Editor Vashi Nedomansky (1:29)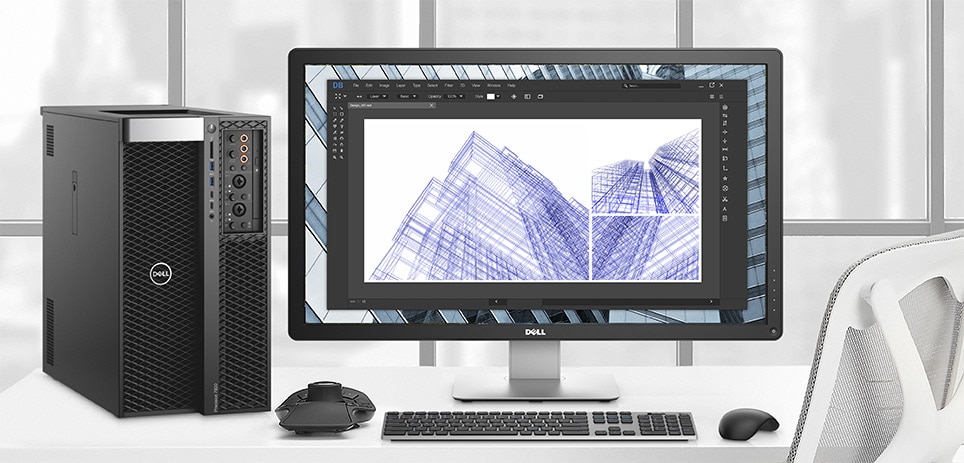 The power to keep up with your ideas.
The Precision 7920 Tower combines versatile design and ultimate storage scalability to grow with your vision no matter where it takes you.

Next gen performance
: Power through your most complex and demanding applications quickly and efficiently with a new generation of dual-socket performance. Featuring the latest Intel® Xeon® processor Scalable family with up to 28 cores per processor or a total of 56 cores when customized with Dual processors.
Room for everything:
 With up to 1.5TB of new faster 2666 Mhz RDIMM/LRDIMM expandable memory, you can accelerate your workflow without slowdown. Now with a 6-channel memory architecture up to 3.0 TB total with select CPUs (requires dual processors).
Stay cool under pressure: Featuring a new multichannel thermal design for advanced cooling and acoustics- for a quieter overall system under heavy workloads.
No project is too big: Work with more flexibility thanks to a new FlexBay design with up to 10×2.5″/3.5″ SATA/SAS drives or up to 4x M.2 or U.2 PCIe NVMe SSD. With the hot-swap feature on the M.2 and U.2 PCIe NVMe SSDs, you can remove drives without shutting down the workstation. Enable increased storage performance with the optional Intel CAS-W cache acceleration solution for workstations

Put your senses in high gear.
Stay flexible with ultimate scalability: The Precision 7920 Tower combines versatile design and ultimate storage scalability to grow with your vision no matter where it takes you.
As adaptable as you are: There is no limit to your potential on this machine designed for the future. Your Precision workstation is ready for complex projects, including virtual reality workflows, with the next generation AMD Radeon Pro™ and highest-performing NVIDIA Quadro® graphics.
A sight to behold: Your fixed workstation supports up to 900W of graphics power and up to 3 double width graphics cards up to 300W each including consumer cards.
Fine tune audio and video: Effortlessly command your audio and video needs with an option DPAI audio module capable of handling professional applications.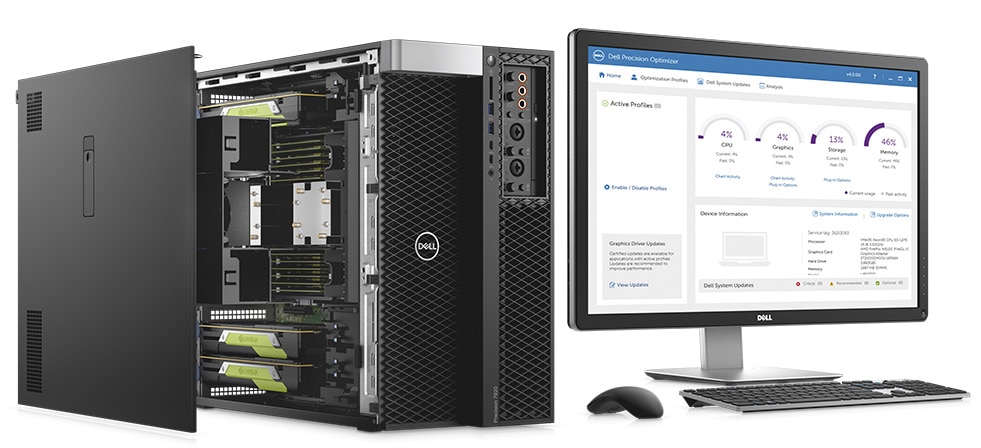 Tuned performance
Free with your Precision workstation, the Dell Precision Optimizer takes the guesswork out of customizing settings and automatically tunes your workstation to run the most popular Independent Software Vendor (ISV) applications at the fastest speeds possible. Featuring centralized management with Microsoft SCCM and KACE, simplified systems management to improve system reliability, detailed analytics and smart notifications to proactively address resource bottlenecks, certified graphics drivers downloads and Radeon ProRender ray-tracing plug-ins to render stunningly photorealistic images ― all in an elegant, new UI.
Reliability where it matters most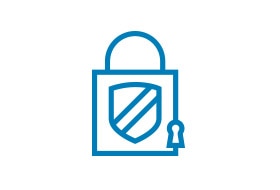 Stay safe, stay secure
Reduce downtime with Dell Reliable Memory Technology (RMT) Pro. Designed to work with ECC memory, RMT protects your machine from potential crashes by mapping out bad memory locations after the system reboots.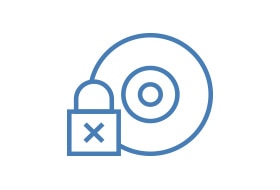 Reliably access your data
Improve the availability of your data with hardware and software optional RAID storage options including PCIe NVMe SSDs.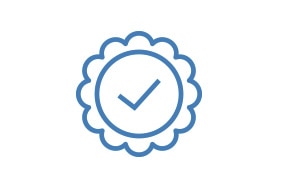 Your work can count on it
Precision Workstations are tested to ensure the high-performance applications you rely on every day run smoothly. Dell ISV-certifications cover the most popular independent software applications.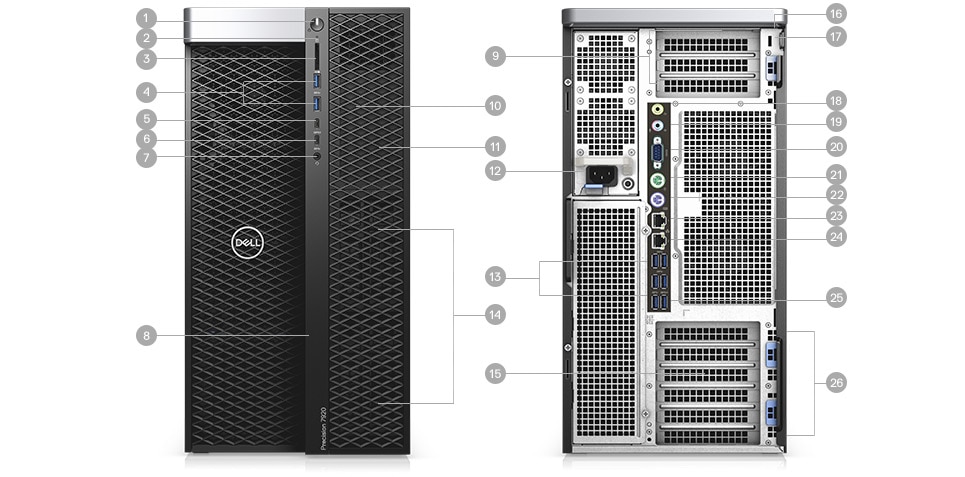 Ports & Slots
1. Power button/Power light | 2. Drive activity light | 3. SD card slot | 4. USB 3.0 ports | 5. USB 3.0 Type-C port with PowerShare | 6. USB 3.0 Type-C port | 7. Headset port | 8. Drive access release latch | 9. Expansion card slots | 10. 5.25 inch bay (optional) | 11. Optical drive | 12. Power cable connector | 13. USB 3.0 ports | 14. Drive carriers | 15. Discrete graphics card slot (optional) | 16. Security cable slot | 17. Padlock ring | 18. Line-out port | 19. Microphone/Line-in port | 20. Serial port | 21. PS/2 Mouse port | 22. PS/2 Keyboard port | 23. Network port (managed optionally) | 24. Network port | 25. USB 3.0 port (supports smart Power-On) | 26. Expansion card slots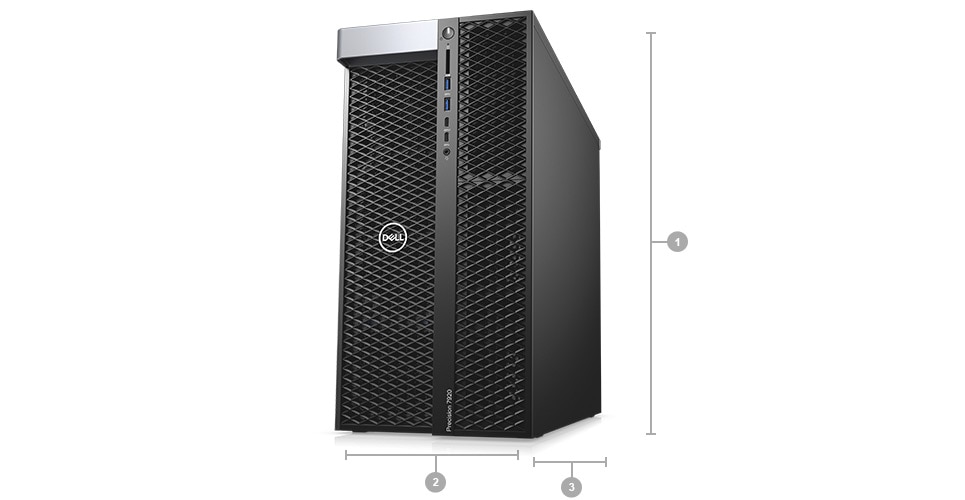 Dimensions & Weight
1. Height: 433 mm (17.13") |2. Width: 218 mm (8.50") |3. Depth: 566 mm (21.46") | Weight: 20.4kg (45.0 lb)