Bike Computer for Performance and Navigation
Connected features such as live tracking, send/receive courses, social media sharing and weather

Compatible with GPS and GLONASS satellites for faster satellite acquisition

Distance, speed, ascent/descent and GPS position

Optional heart rate, speed/cadence and power

Wireless data transfers to Garmin Connect

Activity profiles store preferences for different cycling activities

Train on the Edge
The touchscreen Edge 510 is designed for the competitive cyclist who seeks the most accurate and comprehensive ride data. Connected features¹ through your smartphone include live tracking, social media sharing and weather. Whether you're training, racing or touring, Edge 510 tracks the details of your ride. You can view it later on a map at Garmin Connect™. Compatible with GPS and GLONASS satellites for faster satellite acquisition and improved signal lock, the 510 is suited for the most challenging conditions, such as canyons.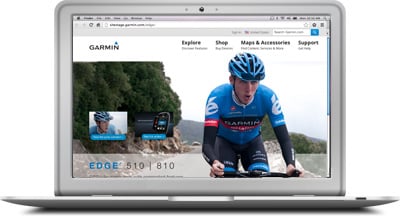 Track Every Detail
The 510 records your distance, speed metrics, ascent/descent, grade and more. Take your training farther with ANT+™-compatible sensors that measure your heart rate², speed/cadence² and power³. Activity profiles let you customize data fields and device settings based on cycling activity, such as training or racing. Switch profiles with a simple swipe of the touchscreen and the 510 will be set up to show the data for that ride. When you complete a ride, the 510 displays any new personal records you achieved, such as farthest distance or most ascent gained.
Get Connected
Edge 510 offers a suite of connected features when paired with your smartphone (iPhone® or Android™) and the Garmin Connect™ Mobile app. Get comprehensive, accurate ride data from a dedicated device, while saving your phone battery. Edge tracks the data and sends it to your phone using Bluetooth®. Stay connected and share all the details of your ride with friends, family and social media. Post an update immediately after your ride or race. Create the posts via your smartphone, and the ride data's already there, thanks to the interface with Garmin Connect Mobile.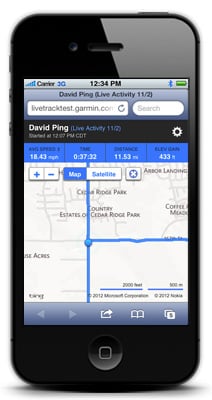 Live Tracking
Live Tracking lets friends and family follow your races and training activities in real time. Invite followers using email or social media, and they can view your live data on Garmin Connect. Once they get your email invite, they can follow and see your stats and location on the map.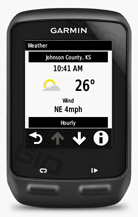 Weather
Get real-time weather conditions, forecasts and alerts (in areas with coverage) directly on the Edge 510 when paired with a smartphone and the Garmin Connect Mobile app. Your smartphone stays safe and dry, while the weather data you need is right at your fingertips.
Wireless Data Transfers
Instantly store, share and analyze every detail of your ride. Using Garmin Connect Mobile, you can wirelessly upload completed activities from your device as soon as you are finished. Activities can be automatically or manually uploaded. Once your ride has posted to Garmin Connect, your own "connections" can view them. You can also search your courses and workouts4 stored at Garmin Connect, download to your smartphone, then send directly to your Edge 510 — wirelessly. You can then navigate to the start of the course and use the Virtual Partner® feature on your Edge to race your previous activities in real time.
Purpose-built Bike Computer
Edge 510 is rugged and waterproof, and has up to a 20-hour battery life. The touchscreen is easy to operate, even with a gloved finger and when wet. Mounting options include a new out-front mount² for heads-up positioning and a standard quarter-turn mount. It also comes with a tether so you don't lose it in the event of a spill.
Physical & Performance:

Physical dimensions

2.0″ x 3.4″ x 0.9″ (5.2 x 8.6 x 2.4 cm)

Display size, WxH

1.7″ x1.4″ (4.4 x 3.5 cm)

Display resolution, WxH

176 x 220 pixels

Touchscreen

Yes

Weight

2.8 oz (80 g)

Battery

rechargeable lithium-ion

Battery life

up to 20 hours

Water rating

IPX7

GPS-enabled

Yes

High-sensitivity receiver

Yes
Maps & Memory:

Basemap

No

Ability to add maps

No

Accepts data cards

no

History

up to 180 hours

Waypoints/favorites/locations

200

Routes

0
Features & Benefits:

Heart rate monitor

Yes (Some versions)

Bike speed/cadence sensor

Yes (Some versions)

Foot pod

No

Automatic sync (automatically transfers data to your computer)

No

Garmin Connect™ compatible (online community where you analyze, categorize and share data)

Yes

Virtual Partner® (train against a digital person)

Yes

Virtual Racer™ (compete against other activities)

No

Courses (compete against previous activities)

Yes

Auto Pause® (pauses and resumes timer based on speed)

Yes

Auto Lap® (automatically starts a new lap)

Yes

Auto Scroll (cycles through data pages during workout)

Yes

Multi-sport (changes sport mode with a press of a button)

No

Advanced workouts (create custom, goal-oriented workouts)

Yes

Pace alert (triggers alarm if you vary from preset pace)

No

Time/distance alert (triggers alarm when you reach goal)

Yes

Vibration alert: (choose between alert tones and/or vibration alert)

No

Interval training (set up exercise and rest intervals)

Yes

Heart rate-based calorie computation

Yes

Training Effect (measures impact of an activity on your aerobic fitness)

No

Customizable screen(s)

Yes

Barometric altimeter

Yes

Unit-to-unit transfer (shares data wirelessly with similar units)

No

Power meter compatible (displays power data from compatible 3rd party ANT+™-enabled power meters)

Yes (records data approx. 1 per second)

Temperature (displays and records temperature while you ride)

Yes

Sport watch

No

Additional

Operating temperature: -20°C to +55°C

Connected features via a smartphone: yes

GLONASS: yes

Compatible with Garmin Connect™ Mobile: yes
Edge 510
Edge 510

Bike mount

USB cable

AC charger

Tether

Manual
Edge 510 Performance/Team Garmin Bundle Available at AED1,499.00
Edge 510

Mounts (standard and out-front)

Premium heart rate monitor

Speed/cadence sensor

USB cable

AC charger

Tether

Manual